Personal Trainers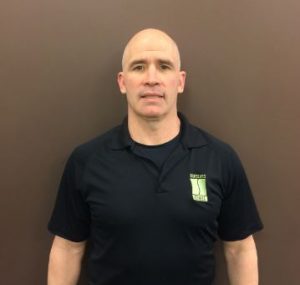 Dennis Flynn
Personal Training Director, Personal Trainer
Dennis has been in the fitness industry for the better part of 20 years. He has a BS in Political Science from Plymouth State where he played football and ran Track. He attained a degree from Umass-Boston in Exercise Health and Science. He is ACSM certified, and also certified from: FMS (Functional Movement Screen), TRX, Titleist Golf, USA Track and Field, Training For Warriors, and Precision Nutrition. His passion for fitness and his experience has enabled him to offer clients a first rate service and help them exceed their goals and expectations. His sessions are fun with an emphasis on functional exercises. This focus will improve mobility, strength, core function, and metabolism in order to transform your body. He utilizes exercise tools such as TRX, kettlebells, boxing training, bands, free weights, and plyometrics. As a trainer he brings his best to each and every session and expects the same from his clients. The biggest reward for Dennis over the years is changing people's lives through fitness.
Steve Anderson
Personal Trainer
Steve is an American Academy of Personal Training certified tainer hailing from Lowell, MA.  Steve enjoys the nature and spending his time outdoors with his close friends. Steve studied autobody in school but his love for helping people to better their futures lead him to becoming a personal trainer. One of his greatest accomplishments thus far has been completing school for personal training where now he feels he has the best job in the world! Steve used to  rock climb competitvely but now has chosen to continue climbing as a hobby.  He also enjoys ice climbing, hiking and snowboarding.  If given the opportunity he would love travel to visit Spain and go rock climbing. On his off days, he likes to kick back, climb and enjoy some quality pizza. If he could meet one celebrity, he would travel back to when Frank Sinatra was in his prime.
Fitness Philosophy: Work Hard and Set Goals!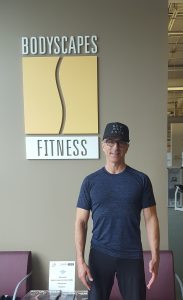 Charles Kaner
Personal Trainer
Charles received his Certification in Personal Training from the National Academy of Sports Medicine (NASM). He also holds a graduate degree in Philosophy from Tufts University and a bachelor's degree in Jazz Performance from New England Conservatory of Music. His lifelong passion for fitness led him to a career in personal training, where his exuberant enthusiasm motivates and empowers his clients to push beyond their limits and exceed expectations. Charles considers it a privilege to apply his extensive knowledge of scientifically proven, evidence-based training methods in helping others gain strength, confidence, physical and psychological well-being. His greatest reward comes in seeing his clients achieve and surpass their fitness goals. In his spare time Charles seeks out fine food, wine, and coffee to enjoy (in moderation!) with friends, and loves music, dance, films, novels, biking, and the New England Patriots!
Fitness Philosophy: "Since every client is unique, I strive first to discover and understand your individual fitness goals and needs—then design, and guide you through, a custom-tailored, fun, safe and effective program that will take you to those goals—and beyond!"
Danielle Barth
Personal Trainer
Danielle was born in New York State and grew up in both New York and New Jersey. She attended college at Adelphi Univeristy, where she earned a Bachelor of Arts in Communications and Media Studies. She spent a semester abroad in Rome, Italy for university and volunteered in local high schools to encourage students with their language studies.  After moving to Boston, Danielle decided to turn her passion into a career with the NASM personal training certification. She also combined her love of fitness with a fitness nutrition specialist certification. Danielle has always been passionate about exercise and health after dancing in high school and regularly working out through out college and beyond. When she's not working out, she loves trying out new restaurants, enjoying the great outdoors, or planning her next travel adventure! She would love to visit Japan or Thailand sometime soon!
Fitness Philosophy: "Working out should not be seen as a chore or a must before a special event or the summer season. It is a positive way of life that maintains long term health and happiness!"
Abby Williams
Personal Trainer
Abby Williams has her B.S. in Kinesiology and Health Sciences from the College of William and Mary in Virginia and is an ACE certified personal trainer. She began rowing her freshman year of college and that kickstarted her love of fitness and training. Being an athlete combined with studying human movement and the body, she loved the chance to see the physical application of information learned in class during practices, which made her focus on function and muscle balance in all exercises. After graduating, she worked as a personal and small group trainer for a year and was the novice women's rowing coach at William and Mary. She recently moved up to Boston to pursue her Doctorate of Occupational Therapy at Boston University. In training she utilizes all tools and styles such as weights, kettlebells, TRX, bodyweight, plyometrics, and circuits, with a focus on improving function in all of her clients using evidence-based training methods. She loves fitness as a way to decompress as well as improve overall health and wellness, and believes that everyone can and should find a way to incorporate it into their life. Her favorite workouts are kettlebell flows and full body weight or functional circuits. When she is not working out (or studying), she is often Facetiming her 1 year old black lab puppy, trying a new restaurant, hiking, or doing calligraphy!
Fitness Philosophy: "Fitness is a chance to feel strong and show yourself what you are capable of. I strive to get to know my clients and their goals, and help them make fitness a part of their daily life in a way that works for them by designing individualized goal-driven programming."