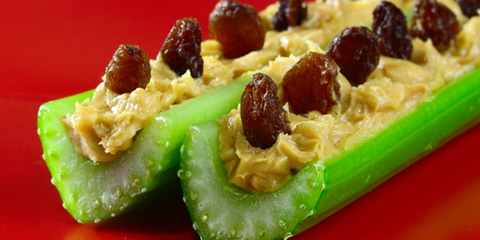 Let's face it. We're all busy and constantly on the go. Finding time to workout and eat healthy all within our busy schedules? It's not an easy task. Let us help you with some suggestions for healthy, portable snacks packed with protein and nutrients that you can take on the go to keep you feeling energized, satisfied, and full throughout the day! Fuel your body with these and it will be sure to thank you.
Modified Ants on a Log: Celery with Almond Butter topped with Almonds. A simple twist on a childhood favorite sure to get you through a long day!
Pumpkin seeds: Don't throw these out after you're done carving your Halloween decorations! Wash, dry, and roast these for a delicious snack to take with you throughout the day
Edamame – you can buy these fresh and steam them or frozen and just simply defrost for a few minutes before eating! Easy on the go and packed with protein!
Overnight Oats: Mix ½ cup oats, 1 cup non-dairy milk, 3 tablespoons chocolate protein powder, and a handful of walnuts in container with a secure lid until well combined. Let sit in fridge overnight (or up to a few days). Need some extra sweetness? Add ½ a banana, mashed
Almond butter and banana on rice cakes. As simple as it sounds!
• Looking for more ideas? Check back on our blog for more health and wellness tips!