Personal Trainers
Brett Campbell
Personal Trainer
Brett graduated from Ithaca College with a Bachelor of Science degree in Exercise Science. A NASM certified personal trainer, Brett has experience with bringing people of all levels through exercise routines designed to improve strength and health over time with the ultimate goal of creating capable clients who are confident inside and outside of the gym. He's a Strongfirst kettlebell instructor and specializes in teaching and troubleshooting kettlebell grind and quick lift technique. If you are looking for a balanced routine and steady, sustainable progress then Brett is the trainer for you!
James Fernandez
Personal Trainer
Philosophy:
I believe the highest level of fitness is achieved through exposing our weaknesses and then working on them day in and day out. There is no miracle drug, super food or secret training. Getting better starts and ends with hard work and discipline.
Focus:
Bodybuilding, Body Recomposition, SAQ training, and Olympic lifts.
Training Goals For You:
To help you maximize your health and fitness potential through safe and effective exercises. No matter the individual, there is always room to improve and together any goal can be made a reality. Getting better isn't a quick fix, but a campaign we embark on together.
Interests:
I love good competition! I am always looking to train and then test my abilities against others. You can also find me outdoors just being active and breathing in fresh air.
Credentials
National Academy of Sports Medicine Certified Personal Trainer
National Academy of Sports Medicine Certified Nutrition Coach
Red Cross CPR/AED/First Aid Certified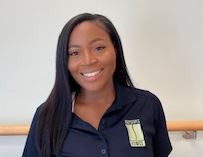 Jessica Nwaoha
Personal Trainer
Graduated from LaSierra University in Riverside, CA with a Bachelor's of Science in Exercise Science & Wellness Management. Certified Personal Trainer with +4 years of experience.
Philosophy:
One should train to feel healthy and strong as opposed to exercising endlessly to "work off that cheat meal". I'm all about setting goals and working at them until the desired results are reached.
Focus:
Strength training, HIIT, plyometrics, weight loss, building strength+muscle mass and toning
Interests:
Working out, sports, social media, crime documentaries, squandering funds on material things online
Training Goals for you:
Set an attainable goal and let's get after it!
CSR: Catch me at the Front Desk as well for any of your membership needs.