Personal Trainers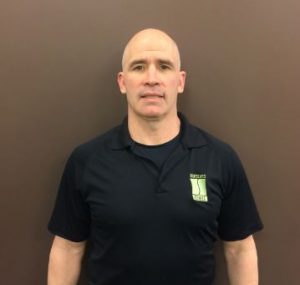 Dennis Flynn
Personal Training Director, Personal Trainer
Dennis has been in the fitness industry for the better part of 20 years. He has a BS in Political Science from Plymouth State where he played football and ran Track. He attained a degree from Umass-Boston in Exercise Health and Science. He is ACSM certified, and also certified from: FMS (Functional Movement Screen), TRX, Titleist Golf, USA Track and Field, Training For Warriors, and Precision Nutrition. His passion for fitness and his experience has enabled him to offer clients a first rate service and help them exceed their goals and expectations. His sessions are fun with an emphasis on functional exercises. This focus will improve mobility, strength, core function, and metabolism in order to transform your body. He utilizes exercise tools such as TRX, kettlebells, boxing training, bands, free weights, and plyometrics. As a trainer he brings his best to each and every session and expects the same from his clients. The biggest reward for Dennis over the years is changing people's lives through fitness.
Steve Anderson
Personal Trainer
Steve is an American Academy of Personal Training certified tainer hailing from Lowell, MA.  Steve enjoys the nature and spending his time outdoors with his close friends. Steve studied autobody in school but his love for helping people to better their futures lead him to becoming a personal trainer. One of his greatest accomplishments thus far has been completing school for personal training where now he feels he has the best job in the world! Steve used to  rock climb competitvely but now has chosen to continue climbing as a hobby.  He also enjoys ice climbing, hiking and snowboarding.  If given the opportunity he would love travel to visit Spain and go rock climbing. On his off days, he likes to kick back, climb and enjoy some quality pizza. If he could meet one celebrity, he would travel back to when Frank Sinatra was in his prime.
Fitness Philosophy: Work Hard and Set Goals!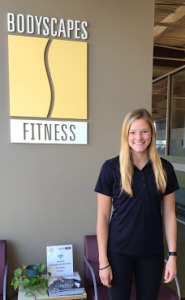 Schuyler Archambault
Personal Trainer
Schuyler is a graduate of Endicott College, where she received her B.S. in Exercise Science. She is currently in graduate school at Simmons College pursuing her Doctorate of Physical Therapy. She is a certified CSCS Strength & Conditioning Coach and an ACSM certified Personal Trainer.
Between undergrad and grad school, she spent a year working in New York as a Personal Trainer. There, she had the opportunity to work with a wide range of ages and fitness levels, from children to seniors, and even athletes. She really enjoys making a positive impact on peoples' lives. As far as hobbies go, you can find her at the beach, hiking, or traveling.
Fitness Philosophy: "The best way to burn fat is with HIIT (High Intensity Interval Training)."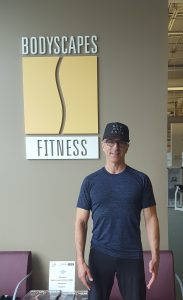 Charles Kaner
Personal Trainer
Charles received his Certification in Personal Training from the National Academy of Sports Medicine (NASM). He also holds a graduate degree in Philosophy from Tufts University and a bachelor's degree in Jazz Performance from New England Conservatory of Music. His lifelong passion for fitness led him to a career in personal training, where his exuberant enthusiasm motivates and empowers his clients to push beyond their limits and exceed expectations. Charles considers it a privilege to apply his extensive knowledge of scientifically proven, evidence-based training methods in helping others gain strength, confidence, physical and psychological well-being. His greatest reward comes in seeing his clients achieve and surpass their fitness goals. In his spare time Charles seeks out fine food, wine, and coffee to enjoy (in moderation!) with friends, and loves music, dance, films, novels, biking, and the New England Patriots!
Fitness Philosophy: "Since every client is unique, I strive first to discover and understand your individual fitness goals and needs—then design, and guide you through, a custom-tailored, fun, safe and effective program that will take you to those goals—and beyond!"
Andrew
Stormer
Personal Trainer
Andrew graduated from Boston University in 2017 with a bachelor's degree in Health Sciences. He has years of experience as a student intern and volunteer in rehabilitation hospitals in Philadelphia and Boston, both shadowing physical therapists and independently coaching patients with exercises. It was this experience that led to his decision to pursue a Doctorate in Physical Therapy over the next few years. Andrew discovered his love for weightlifting and nutrition education from playing sports like wrestling and lacrosse, so he became a personal trainer through the National Strength and Conditioning Association (NSCA) and is working to become an NSCA Certified Strength and Conditioning Specialist. He is passionate about coaching and motivating people towards their goals to drastically improve quality of life.
Fitness Philosophy: "With so many gadgets and online resources available to us, fitness and diet research can be confusing and deter you from achieving goals. I started learning about training techniques and nutrition so I can simplify that knowledge and make the gym something people look forward to!"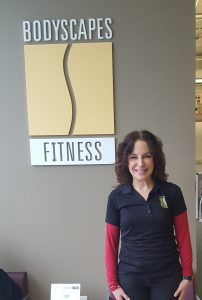 Karen Katz
Personal Trainer
Karen Katz is ACE and CPR/AED certified. She's also completed her Mat 1 Pilates certification with Balanced Body. A mother of kids now in their 20's, Karen understands what it's like to "get your body back" after pregnancies and juggling long hours at the office with family demands. Karen mixes positive mind-set, fitness methods, and health and nutrition coaching when working with clients to ensure a holistic approach to meeting your goals. She's a graduate from University of Michigan in English, and Communications and has her J.D. from Boston University School of Law.