Personal Trainers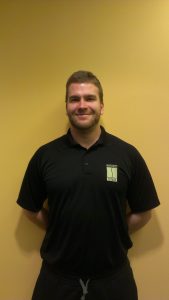 Ryan Wilke
Head Personal Trainer
Philosophy: Proper movement and guided healthy living is the key to success. Practicing safe, repeatable training patterns lets you reach your goals faster. Trainer Smarter, Then Harder.
Focus: Whether it's one on one personal training, small groups or larger classes, proper movement and strength are the focal points of Ryan's training
Interests: Weightlifting, powerlifting, hiking, biking, kayaking, reading
Credentials: BS in Exercise Science -Salem State U
ISSA Certified Fitness Trainer
CSCS candidate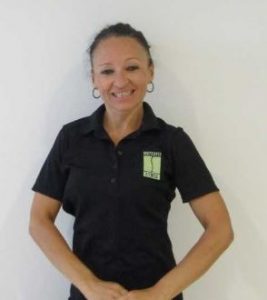 Marina Kovalenko
Personal Trainer/Group Fitness Director
Education/Certification: Master's degree in Philosophy, Certified military nurse, Professional Rhythmic Gymnastics athlete, Weight loss specialist, NASM Certified Personal Trainer.
Areas of focus: My goal is to stay away from tedious machine workouts and strive for diversity.  I incorporate everything from boot camp, cross-fit, kick-boxing, barbells, weight lifting, stretching and yoga to fitness ballet with my clients, depending on their preferences. I also specialize in gender specific methods of training, nutrition and reversing of the aging process.
Goals: To make that hour when a client trains with me one of the most enjoyable times of their day: effective, safe, stress relieving, fun and sweaty. To help all my clients to turn fitness activity into a lifestyle and help them enjoy it. To always be up-to-date about the newest fitness trends, healthy lifestyle and the wisdom with my clients.
Hobbies: Heavy reader, Zumba dancer, healthy food chef and lifelong student
Vuong Tran
Personal Trainer
Philosophy:  Always train a client as if you are training your mother.   Train with compassion. Train safely.  And no matter how much they whine and nag and yell at you, remind them it's for their own good.
Credentials: BS, Exercise and Health – UMass Boston
CSCS Candidate (National Strength and Conditioning Association)
Certified Insanity Instructor (Beach Body)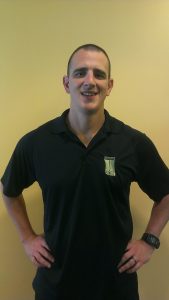 Phillip Brooks
Personal Trainer
Philosophy – In life there are many things we cannot control. However, we can control our physical and emotional well-being. Through regular physical fitness we can shield ourselves from the daily stressors of life and the debilitating effects of aging.
Training Style – My style of training includes strength, power, endurance and mobility/flexibility. Strength and power provides a foundation of muscular and skeletal health, endurance to provide excellent cardiovascular health, and finally flexibility/mobility training to provide recovery and stress relief.
Credentials – B.S. Exercise Science – Salem State University
M.S. Exercise Science – Northeastern University (May 2018 Graduation)
U.S. Army Combat Medic
Nationally Certified Emergency Medical Technician – Basic
Linda Auger
Personal Trainer
PHILOSOPHY: Linda loves working with people whether it be a large group
class, or one on one training. She thrives to improve the lives of her clients in all
aspects of wellness by making exercise a fun, enjoyable experience and through
promoting a healthy, maintainable lifestyle.
FOCUS: Her main focus is in high intensity, circuit style workouts geared towards
weight-loss and building strength. She also focuses on the benefits of outdoor exercise.
INTERESTS: Bodybuilding competitions, dance, hoop fitness, aerial fitness, horseback riding mountain biking, soccer.
CREDENTIALS:
• NASM Certified Personal Trainer
• Les Mills BodyPump Instructor
Michael Pennini
Personal Trainer
Philosophy:  I give my clients what they need as a population and as individuals, working together to create a healthy and effective training routine backed by my experience and science.
Interests:  Marathons, road races, martial arts, recreational boxing and sparing
Credentials; Bachelor of Science with a concentration in Exercise Science
Certified Strength and Condition Specialist
Assistant Strength Coach at Northeastern University
3x Muay Thai Title Holder & Certified Muay Thai Trainer
Brazilian Jujitsu Purple Belt
Uechi-Ryu Karate Black Belt
Jujitsu competitor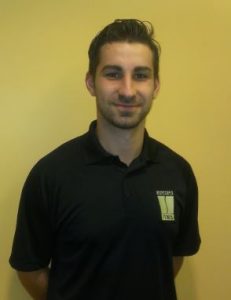 Daniel Nacinski
Personal Trainer
Philosophy:  Movement is not given its earned, so Train Hard and Train Smart and Results will Follow.
Focus: Functional Strength Training, Movement Pattern Reprogramming, Post-Rehabilitative Training
Credentials: B.S. Exercise Science – Sacred Heart University
 M.S. Exercise Science & Nutrition – Sacred Heart University
 ACSM Certified Exercise Physiologist (CEP)
 NASM Corrective Exercise Specialist (CES)
 Functional Movement Screen (FMS) Level I
Christine Daly
Personal Trainer
Christine graduated from Keene State College in NH with a Bachelor of Science degree in Physical Education specializing in Health Fitness. She has been a personal trainer for 10 years and has her certified strength and conditioning specialist certification from the National strength and conditioning Association. Christine has been active all of her life playing sports and always knew she was not the type of person to sit behind a desk all day; therefore she is energetic and passionate about what she does. Her main focus outside of Bodyscapes is dance. She really enjoys teaching classes to all ages and likes to perform as well. Christine loves Personal Training because of the one on one interaction and helping people make healthy positive changes in their lives everyday.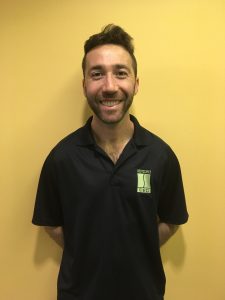 Travis Rogen
Personal Trainer
CREDENTIALS
B.S in Exercise Science from Syracuse University and Masters of Ed in the same field from Cleveland State;  Six years experience in Personal training and High school coaching track and field; Licensed Physical Therapist Assistant from Bay State College
INTERESTS
Personal fitness and health, several sports including tennis, track & field and swimming
Livia Meneghin
Muay Thai Instructor
PHILOSOPHY: Fitness is about taking care of yourself, with the best results made by listening to your body and committing to your goals. Keeping variety in your routine makes working out fun and challenging.
FOCUS: Functionality is key, and martial arts training is the best way to get a full body workout. Boxing and Muay Thai involve cardio just as much as strength training and perfection of technique. I'll work with you on the heavy bag and with focus mitts to develop striking skills. Full warm-up and cool down stretches, including yoga, bookend my sessions to provide proper care to your muscles and joints.
CREDENTIALS: 3rd degree black belt in Japanese Jujitsu; TKO 1-0 record in Muay Thai; Level 4 in Krav Maga
INTERESTS: Martial arts, soccer, track & field, yoga, weightlifting, watching sports, traveling, writing, reading, baking