Staff
Ashley Alves

Club Manager
Ashley was born and raised in Somerville, Massachusetts. She became passionate about health and wellness as a teenager which is why she decided to enter the industry. She has been working in the fitness industry for the past seven years. She graduated from Somerville High School and went on to attend Merrimack College, graduating with a Bachelor of Science in Sports Medicine with a concentration in Human Performance and Wellness. During her time at Merrimack she had a variety of different internships within the strength and conditioning and health and wellness field. Some of those internships include: Strength and Conditioning Intern at Harvard University, Research Assistant for Let's Move in Lawrence, Program Assistant for the IM Program developed and sponsored by the Michael Phelps foundation, and Research Assistant at the John Hancock Research Center on Physical Activity, Nutrition, and Obesity Prevention. Some of her accomplishments thus far have been graduating from Somerville High School with all honors, graduating from Merrimack College on the Dean's List, and being able to use her knowledge to progress within the fitness industry and as an individual. Ashleys hobbies include swimming and taking a variety of different group exercise classes. She loves tomatos and would love to travel to anywhere that has beautiful beaches and sunshine!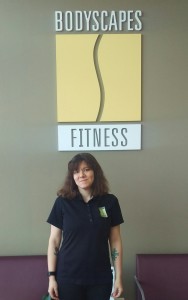 Alyssa Valmas
Customer Service Representative
Alyssa is a native of Brighton, MA. She comes to Bodyscapes with a strong customer service and computer science background. An avid health and fitness enthusiast, she enjoys running, swimming, biking, working out, and cooking vegetarian meals. In the evening she loves going to concerts and spending time with friends. Music has always been an important part of her life. In her downtime she reads, does puzzles, volunteers at a cat shelter, and — most importantly — plays with her own cat, a Maine Coon mix named Lily.
Fitness Philosophy: "to keep moving as much as possible, stay active, and maintain a healthy diet!"
Carolyn was born and raised in Bloomington, IL. She was attending college at Northern Illinois University when she decided to move to Boston to complete her Paralegal Studies Certificate and a bachelor's in Criminal Justice. In her free time she enjoys running, reading, baking, and videogames. She loves pasta and steak and would love to travel to Spain and Italy to broaden her knowledge of those languages, and also to explore her grandparents' Italian heritage. She is engaged to her best friend, and is very excited to join the Bodyscapes Team!
Fitness Philosophy: "Cardio and lifting for overall well being. Running doesn't have to be everything; Zumba, circuits, anything to get your heart pounding. Most importantly, have fun while doing it!"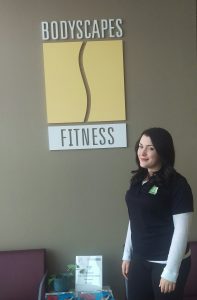 Jessica Bastardi
Customer Service Representative
Jessica is a lifelong resident of Somerville, MA. She holds a degree in history and Italian studies from the Institute of Venezia. She loves the summer time and music. In her free time she enjoys spending quality time with friends and family and also enjoys traveling whenever possible. She loves trying new restaurants
Fitness Philosophy:  "Elliptical is the key to success!"
Taylese Parker
Childcare
Taylese is from Dorchester, MA. She is currently pursuing a bachelors in Elementary Education and Psychology at Framingham State University, with a minor in Spanish. She is on the President's List at FSU for receiving High Honors. She has always wanted to be a teacher, and is a Generation One her beloved dog Cache, a 5 year old Jack-a- Poo. She loves seafood, and hopes to travel and teach in a 3 rd world Spanish-speaking country when she graduates college.
Education Philosophy: I believe the children are our future. Teach them well and let them lead the way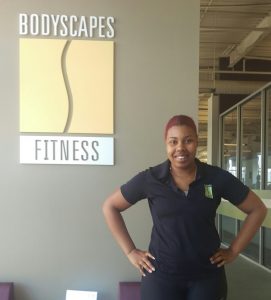 TeShawn Conley
Customer Service Representative
Te'Shawn is a native of Boston, MA. She is currently studying Biology and Chemistry as a Pre-Med Student at UMass Boston. She coaches basketball to a team of high school girls and enjoys working out. Her favorite foods are buffalo chicken, turkey, and spaghetti, and she loves to cook. She is a proud co-parent to a Jack Russell Terrier named Hersheys. She would love to travel anywhere and everywhere. When she becomes a doctor, she would like to specialize in Sports Medicine, so she is hoping that her experience working in the fitness industry will enrich her future career.
Fitness Philosophy: "Go Hard or Go Home!"