Staff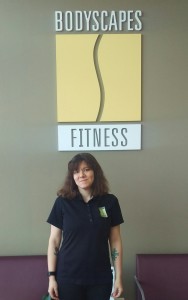 Alyssa Valmas
Assistant Manager
Alyssa is a native of Brighton, MA. She comes to Bodyscapes with a strong customer service and computer science background. An avid health and fitness enthusiast, she enjoys running, swimming, biking, working out, and cooking vegetarian meals. In the evening she loves going to concerts and spending time with friends. Music has always been an important part of her life. In her downtime she reads, does puzzles, volunteers at a cat shelter, and — most importantly — plays with her own cat, a Maine Coon mix named Lily.
Fitness Philosophy: "to keep moving as much as possible, stay active, and maintain a healthy diet!"
Taylese Parker
Childcare
Taylese is from Dorchester, MA. She is currently pursuing a bachelors in Elementary Education and Psychology at Framingham State University, with a minor in Spanish. She is on the President's List at FSU for receiving High Honors. She has always wanted to be a teacher, and is a Generation One her beloved dog Cache, a 5 year old Jack-a- Poo. She loves seafood, and hopes to travel and teach in a 3 rd world Spanish-speaking country when she graduates college.
Education Philosophy: I believe the children are our future. Teach them well and let them lead the way